U.S. will not see an Ebola epidemic – not even a serious outbreak: Scientists
November 11, 2014
Ebola

U.S. will not see an Ebola epidemic – not even a serious outbreak: Scientists

Published 12 November 2014

Twenty-five years ago, the United States experienced its first Ebola outbreak in a Reston, Virginia primate facility which shipped animals to research labs throughout the country. Jerry Jaax, one of the scientists who worked at the primate facility at the time and who is now an associate vice president for research compliance and university veterinarian at Kansas State University, believes that the United States is well prepared to handle the Ebola virus. "We won't have an epidemic or even a serious outbreak," said Jerry Jaax. "The thing about it is we've got a zero risk tolerance bar that we set that says we can't afford to have one person get infected or it's a disaster. You can't ever say never in biology and there are a lot of wild cards thrown in there, but I think basically the United States is ready."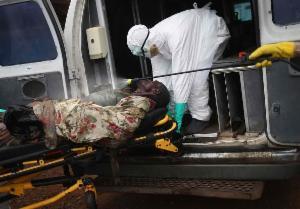 U.S. Ebola fears overblown: Critics // Source: nwsktms.info
Twenty-five years ago, the United States experienced its first Ebola outbreak in a Reston, Virginia primate facility which shipped animals to research labs throughout the country. Veterinarians realized that some of the primates, imported from the Philippines, tested positive for Ebola. Jerry and Nancy Jaax, two former Army veterinarians, joined other scientists to euthanize hundreds of animals in the facility to prevent the virus from spreading to humans.
According to the Wichita Eagle, at the time, the strain of the virus was believed to be the Ebola Zaire, the most deadly form of the disease, but scientists later discovered that the strain was new and could not spread to humans. "It certainly looked like we had a serious public health emergency on our hands and all of the people involved in it, from senior administration down to the operational level felt it was a very dangerous situation," said Jerry Jaax. "It turned out not to necessarily be that. … Ultimately it was nice it wasn't something that killed anybody."
Despite the initial misdiagnosis of Ebola patient Thomas Eric Duncan at the Texas Presbyterian Hospital Dallas, Jerry Jaax, now an associate vice president for research compliance and university veterinarian at Kansas State University, believes that the United States is well prepared to handle the Ebola virus. Hospital administrators and infectious disease specialists throughout the country became alert after learning of the misdiagnosis in Dallas, setting protocols for patients with Ebola like symptoms. "We won't have an epidemic or even a serious outbreak," said Jerry Jaax. "The thing about it is we've got a zero risk tolerance bar that we set that says we can't afford to have one person get infected or it's a disaster. You can't ever say never in biology and there are a lot of wild cards thrown in there, but I think basically the United States is ready."
Healthcare systems in the affected countries of Guinea, Sierra Leone, and Liberia were weak and underdeveloped, making it nearly impossible to prevent an Ebola outbreak in West Africa. Added to the scenario are the cultural practices of handling infected dead bodies for burial, the general distrust of doctors and medical staff, and the movement of the virus from rural areas to large cities. "It really changed the dynamic of the outbreak when it got into these big cities where you have lots of mobility," Jerry Jaax said. "That really changed what had been a very isolated sort of disease. It would pop up mysteriously, it would get bad and then it would disappear."
The current Ebola outbreak presents an opportunity for U.S. public health officials to commit to understanding the virus and eventually developing a cure or vaccine. "Ebola is still a bit of a mystery virus. … It takes a very long time to get real answers. These are tough bugs," said Nancy Jaax, who was part of the research team that discovered that Ebola was most likely introduced to the human population through food, particularly bush meat. Once introduced to humans, the virus spreads via droplet transmission or direct contact with bodily fluids.
Nancy Jaax blames lack of consistent funding and research for the level of the current Ebola outbreak. "If you look at Ebola, that's one of the things that didn't happen. We spent a little bit of money and everyone said 'Well, it's not really a big disease, so there's no funding for it this year,' and 'It's not a threat to the U.S,.' 'Small outbreak.' Well, as we've seen, that paradigm can change dramatically." She warns that inconsistent funding could lead to under-preparedness for when the next Ebola outbreak strikes. "It's a little bit like the army," said Jerry Jaax. "Armies are very inconvenient to have until you need one. Then all of a sudden it better be one that's a good one. That's the way it is in public health, a lot of this stuff doesn't look like it makes a lot of sense to dump a lot of money into until it goes bad. And then you need it."
Leave a comment
Register for your own account so you may participate in comment discussion. Please read the
Comment Guidelines
before posting. By leaving a comment, you agree to abide by our Comment Guidelines, our
Privacy Policy
, and
Terms of Use
. Please stay on topic, be civil, and be brief. Names are displayed with all comments. Learn more about
Joining our Web Community
.
-->